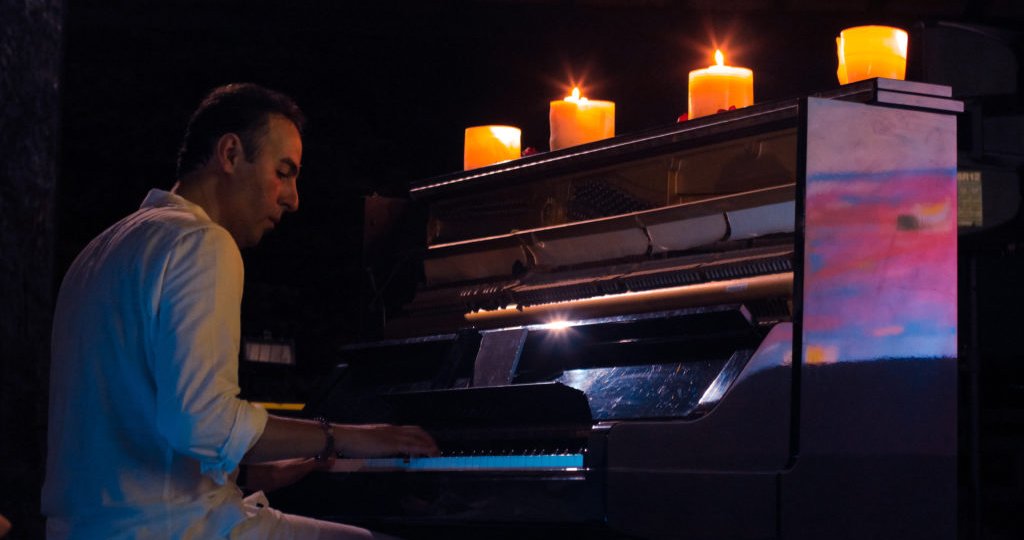 On April 13 Arash was in Bali for a solo piano performance at the Wu Wei Wisdom Sanctuary. The sold out event was hosted in the 300-year-old temple surrounded by lush greenery and always accompanied by sounds of Bali's nature.
The performances featured compositions from his first new age album, With Closed Eyes, as well as scenic and emotionally inspired impromptu pieces. Arash was deeply touched by the beautiful high-rise view of the temple that it gave way to new compositions that will be part of an upcoming album.
The power and sacredness of the temple touched Arash mentally, spiritually, emotionally and physically. The open walls of the temple allowed for a constant soundtrack of forest sounds that seemed to always be playing new and riveting songs that beautifully merged with the vibrations of the piano.
Those in attendance had a backdrop of a star lit-sky and an emerging moon illuminating the surrounding greenery enveloping distant villages as Arash took them on a journey of deep and soulful music. All while banana leaf wrapped candles on the piano flickered as if dancing with the warm island breeze to the piano's melody.
Encaptured by the sense stimulating performance the crowd watched and listened in awe, some being brought to tears as they allowed the music to heal their souls and enjoyed the up and downs of stories Arash told through his compositions.
Audience members described the experience as music that elevated the soul, soft energy with a lot of fire, artistically inspiring and overall a piece of art needed to be shared with the world.
Arash left inspired and reawakened to keep on creating new uplifting music that will take his listeners on an emotional journey whether it be a safe place or elsewhere.
To stay updated follow Arash's Twitter, Instagram, and Facebook page or check out the events page to see where you can catch him live.
Special thank you to the Wu Wei Wisdom Sanctuary and staff, the generous hosts and all those who came out to show their support.