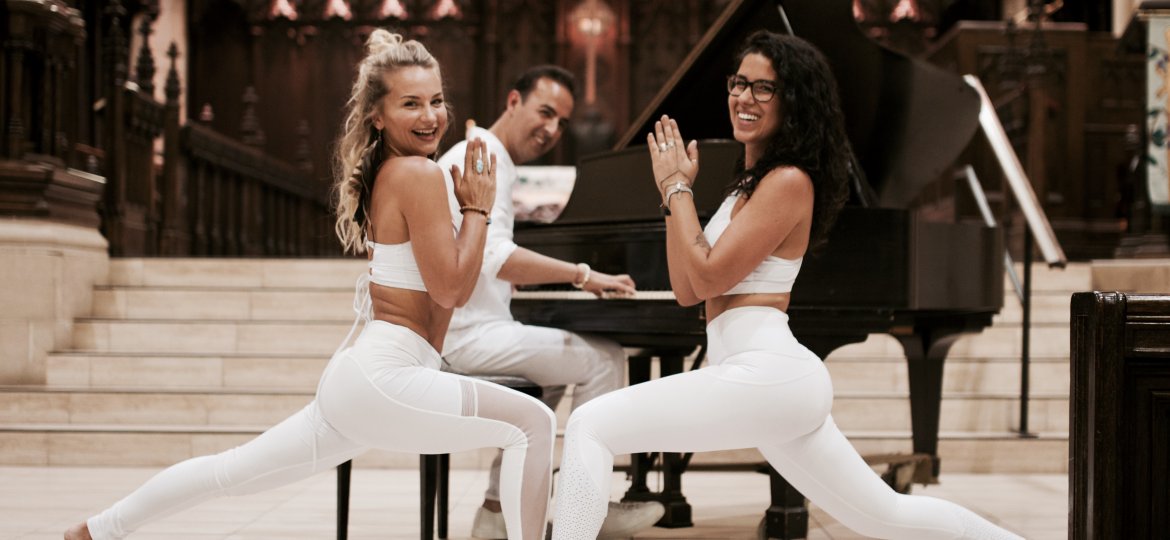 In the month of July Arash commenced the first official piano-yoga venture. The pianist/composer partnered with international yoga and movement instructor Miranda Leeann and meditation and wellness coach Anna Gala to host Toronto's first cathedral yoga event with live piano, entitled Sacred Space the Sunrise Edition on July 15 and the Moonrise Edition on July 24. The Metropolitan United Church, located in downtown Toronto, opened its doors to just over 60 attendees for a magical filled morning and evening.
Both classes experienced 45-minutes of Miranda's signature Flow + Glow yoga while Arash played compositions from his album, With Closed Eyes, on the Mets grand piano. Miranda accompanied each soul into a journey of movement and showed the classes how to find harmony in their breathing. Pose after pose Miranda stayed connected to the participants bringing the class to flow as one.
Perfectly framed by the cathedrals' high pillars Miranda used Arash's peaceful keystrokes to phase into savasana. The neo-Gothic walls carried the sound and vibrations of the piano throughout the sanctuary and into the bodies of everyone present creating a magical atmosphere.
During Moonrise, Arash played a touching tribute to Linkin Park's lead singer Chester Bennington by playing their critically acclaimed single, Numb.
Miranda concluded the yoga portion and passed the session over to Anna for a 30-minute guided meditation.
With a gentle and soothing tone, Anna got the attendees to search within themselves to release bad karma and find their inner peace. Anna coached through deep breathing exercises and Arash's playing intensified in a way that seemed as though the negative energy being released took form through the music. Anna and Arash fell into a synchronized mix of emotions and rhythm creating a powerful combination that left the groups in a euphoric state.
Inspired by the feel of the room and both Anna's and Miranda's guidance Arash improvised compositions during certain parts of each class making them feel unique and customized.
After each edition attendees ended their journey of movement, meditation and music in a relaxed state of mind, some even left in tears, but each person truly found their sacred space.
Participant Stacy Chang-Christoforou said, "Yoga with the piano was a connective and emotional experience. I was connecting with the music and feeling a sense of release, of cleansing. It was beautiful."
After this successful debut, the trio plan on bringing it back for fall 2017. Details will be made available as soon as they are set.
This is only the beginning of Arash's journey into exploring the endless possibilities of combining yoga with live music in unique and spiritual settings. You can learn more about yoga and if it's right for you on Positive Health Wellness.
To stay updated follow Arash's Twitter, Instagram, and Facebook page or check out the events page to see where you can catch him live. 
Special thank you to partners and friends Miranda Leeann and Anna Gala, photographer Ryan, video producers Peyman Soheili and Hafez Savi, the helpful church staff and everyone that came out to support the event.