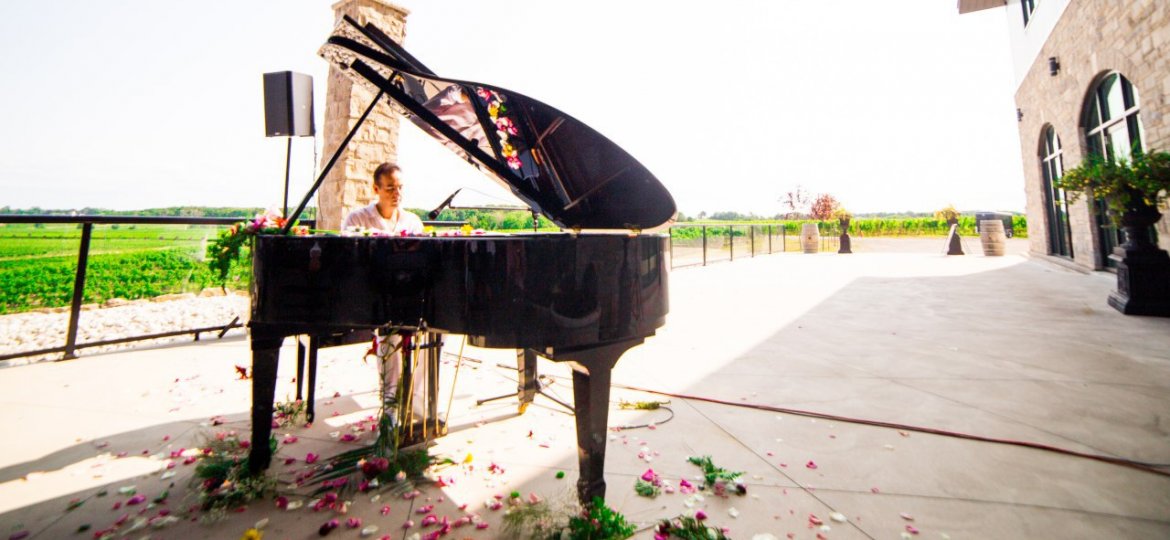 On August 26, on a crisp summer day, Arash showcased his new album, Elsewhere, to an intimate audience seated on the expansive terrace of one of Toronto's more cheeky wineries aptly named Megalomaniac Winery.
Situated atop the Niagara Escarpment, the winery's vineyards stretch as far as the eye can see with sweeping views of Niagara on the Lake and Lake Ontario on the horizon to the north, and Niagara Falls to the west, a breathtaking backdrop to the terrace, now turned into an outdoor stage for the occasion.
Elegantly dressed in white linen, Arash emerged from the pathway leading up to the terrace and seated himself at the petal-strewn gleaming ebony  Young Chang baby grand piano, immersing himself, body and soul into the music, at once personal but at the same time intimately connecting with the audience.
Caressed by soft summer breezes while enjoying a glass of wine with a cheese and charcuterie plate, the audience allowed themselves be enchanted by Arash's transformative pieces.
For regular audiences of the winery's weekend afternoon jazz and wine tradition, Arash's very intimate piano narratives were a refreshing new experience.
The healing powers of his music were especially significant to one audience member recovering from life saving surgery. The afternoon performance was also a well received and innovative experience for the acclaimed boutique winery which brands itself as "original, bold, audacious." Much like Arash's own music.
---