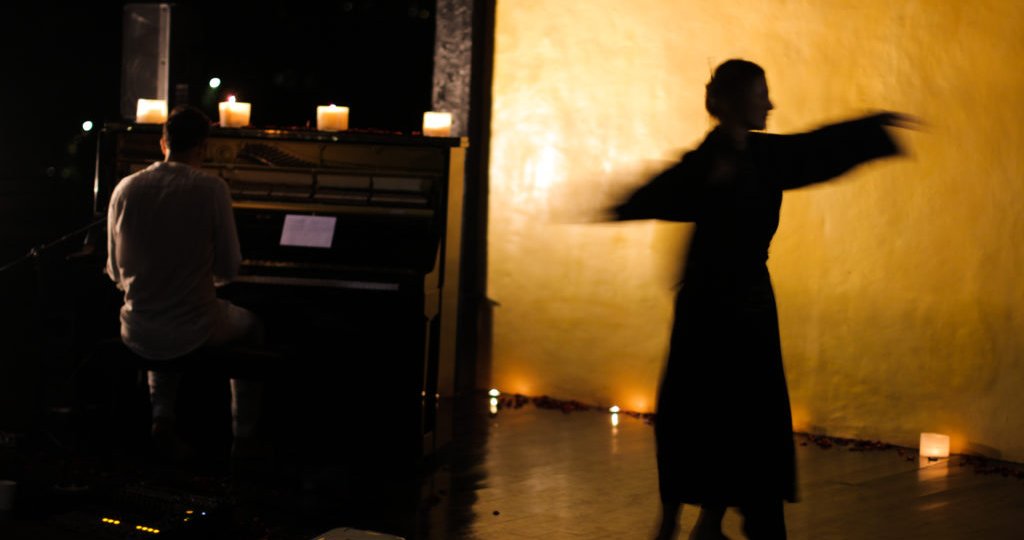 After only meeting Alla Dulh a few weeks prior in Bali, Arash joined her to put on a theatrical performance with live piano on April 9, 2017, at the 300-year-old Wu Wei Wisdom Sanctuary in Ubud, Bali.
The piece was a combination of live piano, dance, art and song based on Alla's book about her wooden paintings entitled Antare.
As the audience looked on Arash played compositions he improvised based on the mood of Alla and the audience. Once emotionally connected through the music Alla navigated the emotional journey of her life experiences. At one point she was brought to chest sobbing cries that transcended into heartfelt laughter leaving the crowd stunned but mesmerized.
Chapter after chapter Arash managed to get lost in the story to truly portray the raw emotions with the strokes of the piano carried beyond the open walls of the temple into the unknownness of the surrounding forest.
Praised by all those who attended, Arash and Alla plan to share this masterpiece with the world.
The video gives a glimpse into the uniqueness of the performance and beautifully showcases the sacredness of the temple. Let us know what you think in the comments below.
To stay updated follow Arash's Twitter, Instagram, and Facebook page or check out the events page to see where you can catch him live.
Special thank you to the talented and inspiring Alla, the beautiful temple and gracious hosts Dev Dharam and Neely Shasheen Cane and all those who came out to support the event.