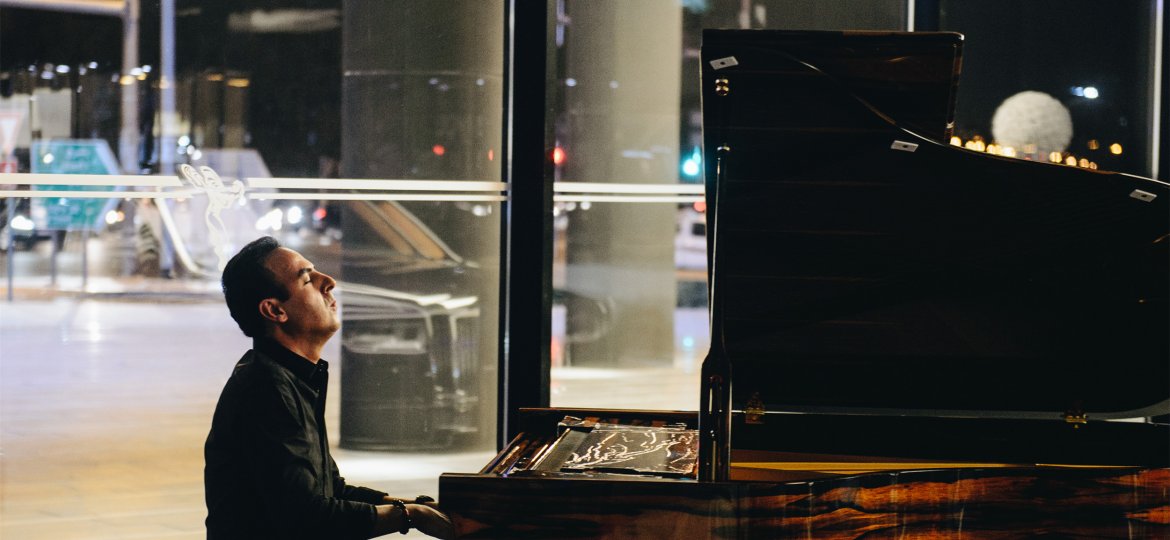 As I travel the globe one of my greatest joys is to be able to share my music with vastly different cultures, from the deeply spiritual people of the lush island of Bali so closely aligned to nature – to ultra modern, sleek fast paced cities like Dubai, one of the seven emirates of the United Arab Emirates and an "instant global metropolis" that seems to have sprung up from the desert over night.
On my return home from a period of spiritual renewal in Bali where I performed an especially personally meaningful concert I stopped in Dubai to play at a two hour private event for Rolls Royce VIP clientele in the sleek new City Walk complex.
The one-of-a-kind Rolls Royce "experiential" (because it's all about the experience) boutique in Dubai covers over 7000 square feet on two levels with top to bottom pixel animation screens on the external windows. It features everything from its Pinnacle Café where barista artists create the  famous "RR" logo in the latte foam to a bespoke "atelier" where you can order exotic paints, woods and leather to customize your car. Rolls' upholstery to match your Birkin handbag perhaps ?
Next door to the Rolls Royce boutique is the Piano Music and Art Centre, an exclusive piano boutique.  In collaboration with Rolls Royce, they created the event at which I was invited to play. The piano was a custom $300,000 Fazioli made in Italy of multiple layers of white ebony veneer, the only one in the world.
The Rolls Royce and Piano boutiques are within City Walk, the spectacular new indoor/ outdoor complex modelled in part, after a London High Street.
So, stepping from the natural outdoor beauty of Bali one day to the amazing architectural and engineering wonder of City Walk, the next, I felt transported from one world to another as  I sat down to play for a select international audience.
As an introduction and tribute to local culture, I played a series of Arabic songs. I also created a piano arrangement of the popular song Dar Zayed (which means Land of Zayed) celebrating the Year of Zayed, the person behind the UAE's meteoric economic growth and modernization. The late Sheikh Zayed bin Sultan Al Nahyan was an internationally respected and progressive Arab leader, born 100 years ago into the impoverished desert sheikhdom of Abu Dhabi, one of the seven states of the Arabian Peninsula.
He is celebrated as a generous philanthropist and the founding father of the UAE, the man who "turned the dessert green", a humanitarian and symbol of justice, generosity and forward thinking who bridged old and new worlds, building hospitals, schools and roads, catapulting the emirates into the modern age following the discovery of oil.
In recognition of his legacy, the current president declared 2018 to be officially known as The Year of Zayed throughout the UAE promoting the values the late president through events and initiatives showcasing his international impact in creative and interactive ways. I was humbled to be able to contribute in even a small way with my music.
Because the audience was an eclectic mix of Arab and expatriate business people, I also played music to appeal to a variety of tastes – everything from Frank Sinatra to the theme soundtrack from the movie Amélie as well as my own compositions from my latest album Elsewhere.
It was another unique event in a stunning setting, enabling me to reach and touch a diverse audience who responded so graciously. I am deeply grateful for it provides me with great personal joy to share my emotions, touching one heart at a time through music.
My special appreciation to:
Mr. Mamdouh Khairallah, General Manager of AGMC – Rolls Royce Motors, Dubai
Ms. Zhannar of Pianos Music & Art Centre – Dubai
and Konstantin Chalabov for his stunning photos and capturing the event moments
Blog post written by: Dee Gibney