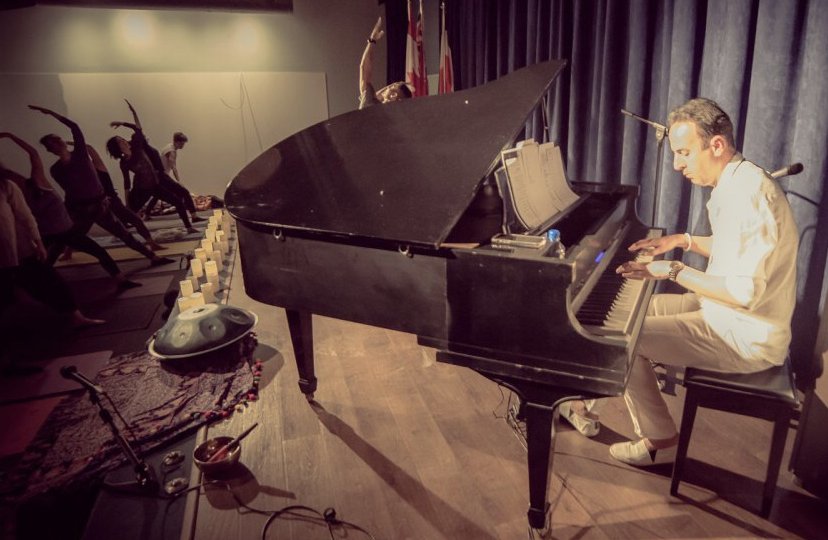 After a long grey winter, the brighter days of spring are something everyone longs for. In the spirit of preparing to welcome this long anticipated period of renewal, my yoga instructor/enthusiast friends and I decided to hold a Nowruz themed yoga festival.
We decided the yoga event should be in honour of this special day that celebrates the arrival of spring and marks the New Year by Persian people throughout the world. Nowruz, which means "new day," goes back 3000 years and is embedded in Iranian culture. It symbolizes new life and new beginnings by over 300 million Persian speaking people.
So after nine months of planning, (a perfectly symbolic number for rebirth!) , we launched our special event on March 3rd. Over 100 yogis, Persian and non Persian alike, moved as one to different forms of music that I improvised for the two hour afternoon event at the Parya Trillium Foundation community centre. The centre is a hub for programs and services serving the Iranian Canadian community.
To help people settle into the session, I introduced a Tibetan singing bowl, a centuries old instrument that whose unique tones and vibrations create the perfect state for deep relaxation and meditation, awakening and enhancing the mind/body connection.
Within a few minutes and with the "Om" sound perfectly established, I transitioned to a hang drum as Sara Salehi introduced a series of slow gentle stretches to the diverse group of yogis. The hang drum, which I discovered in Bali, produces an ethereal, mellow sound that is at the same time, rich and melodic.
This gentle introduction built into the more dynamic and powerful Yang Yoga session led by Paria Mirazimi and which I accompanied with piano improvisations followed by the singing of a song by the 13th century Persian poet and Sufi mystic Rumi.
We wound down the session with a relaxing and restorative Yin Yoga sequence guided by Dory Shirazi – a perfect complementary practice culminating in a meditation led by Sara, and once again enhanced with the mystical sounds of the hang drum.
We brought the two-hour practice to a powerful close with a piano rendition of Leonard Cohen's moving Hallelujah, performed by myself on the piano and accompanied by Rebecca Kh, our guest vocalist, with everyone singing in unison. Rebecca also accompanied me at the earlier part of the event with a rendition of Farhad's "Koodakaneh" song.
With everyone energized, relaxed and restored we enjoyed some delicious pastries and stayed to mingle and chat while looking over some of the handicrafts available for sale by a variety of vendors.
If you're more of a nigh owl you can introduce yoga into your routine as well by following the Positive Health and Wellness guide.
Note: The event was organized by yoga instructor Sara Salehi, Sanaz Ariannejad, Ghazaleh Kayhani and myself.
You can watch the video here: https://youtu.be/wGTS5bf25_I
A special thank you to our sponsors Arezou Khodkar (Remax), Dreamland Immigration, Lululemon, Moksha Yoga Thornhill, Shabnam Joybari (Silk Med Spa), Sadaf Ghezelbash (Certified Professional Life Coach) and Ghazal food